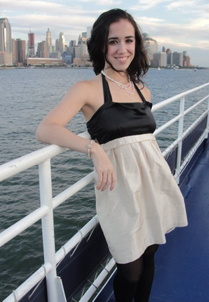 Emily Starbuck Crone (formerly Gerson) is a writer and editor based in San Antonio, Texas, and sometimes Austin, Texas. Her primary areas of expertise include personal finance, LGBTQ issues, travel, and food/restaurants.
A native Houstonian, Emily graduated with a communications degree from the University of Texas at Austin in 2007. In college, she interned at Texas Monthly and TRIBEZA magazines and was the editor-in-chief of a weekly newspaper that served five colleges, The Austin Student.
After graduating, she became the editorial assistant at CreditCards.com. She left her full-time role after a year, but continued writing a weekly column for five years.
In 2008, Emily wanted to explore a different style of writing and became a copywriter in the travel industry at HomeAway. She was promoted to Marketing Communications Manager of BedandBreakfast.com (acquired by HomeAway) in 2010. During her three years in this role, Emily wrote all offline and online editorial and marketing content, in addition to managing all social media and supporting all PR efforts.
In May 2013, Emily relocated to San Antonio and spent over a year as a copywriter at a credit union. In October 2014, Emily was thrilled to return to her journalism roots and join San Francisco-based NerdWallet as a Staff Writer (she works remotely). While she loves this job, Emily has always enjoyed doing some freelance writing and editing in her spare time.
Emily has bylines in Consumers Digest magazine, The Christian Science Monitor, The Chicago Tribune, The Huffington Post, USAToday.com, About.com, and a variety of other websites and publications. Emily also possesses a perfectionist streak when it comes to punctuation, spelling, and grammar, and she loves editing anything and everything.
Throughout her career, Emily has been trained in writing for both journalism and marketing, in addition to SEO best practices. She also has a large amount of experience with social media and blogging. In 2009, she started a travel blog, Maiden Voyage. After three years, she sold the successful blog and its social media accounts in September 2012.
When she's not writing or reading, Emily enjoys seeing live music, traveling, swinging kettlebells, photography, watching documentaries, eating dim sum, cuddling with her rescue dogs, and serving on the membership committee of Human Rights Campaign's San Antonio chapter.